Magic by Jerry
Orlando, Florida
Ph. 407-282-1964
email Tattoos@magicbyjerry.com Talent Request Form
TEMPORARY TATTOOS
WE HAVE EXPANDED OUR

TALENTS

TO INCLUDE…

ARTISTS ENTERTAINING

WITH TEMPORARY

TATTOO'S.

PLEASE CALL FOR AN INTERACTIVE ARTIST TO GREET AND ENTERTAIN the GUESTS.

407-282-1964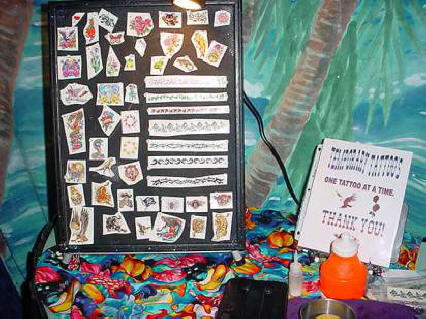 Florida Beach Party !
One of many great theme parties that our Temporary Tattoos bring fun to regularly
Return to the top of this page.
Watch our promotional clips
email Tattoos@magicbyjerry.com Talent Request Form
New Check out Paula's gifts of art
This Web Site was constructed and is maintained by www.cocoavillagepublishing.com Orlando, Florida
Thank You for visiting, and if you note a persistent discrepancy please inform questions@cocoavillagepublishing.com the location (URL) and problem.